Anytime, anywhere tune in to
hear Dr. Peeke host the wildly popular HER Podcast. Learn the naked truth about HER mind,
HER body and HER life.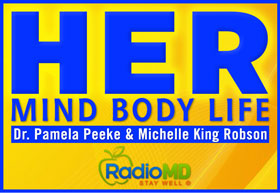 We'd really appreciate it if you could RATE the show while you're there and leave a REVIEW if you can. We always love to hear from you!
Not seeing eye-to-eye with your partner? Maybe it's time to make some changes.Does it really take two to make a thing go right? Or, can you fix your relationship yourself? Maybe one of you has a "good idea" and the other person isn't on board. You want to move to the country, or he wants to have another baby. When you reach an impasse, conventional…
No need to use the products of your foremothers! There are new feminine hygiene products on the market that are cost-effective and environmentally friendly.Over the course of your life, you'll have about 500 periods. That's a lot of feminine hygiene product consumption.Feminine hygiene is a $5.9 billion industry in the United States and a $35 billi…
Eat wisely for your baby's best health.There's a lot of information out there about what foods to avoid when pregnant. For one, you want to reduce toxicity prior to and while pregnant. Also, many women initiating a pregnancy are often overweight or obese. It's time to find out what you should eat. How Much Weight Should You Gain?Babies usually weig…
If you have some sagging or bulging "down there," you may have prolapse.The organs inside a woman's pelvis are held in place by tissue and muscles. These organs include the vagina, cervix, uterus, bladder, urethra, intestines and rectum. Prolapse occurs when the support system that holds these organs has been stretched or torn, leading to sagging….
Put an end to butter shaming. It's time to start enjoying this churned goodness.Butter has gotten a bad rap over the past 15-plus years. It's time to set the record straight so you can enjoy butter without guilt. For a buttery experience like our ancestors enjoyed, seek out butter from grass-fed cows. You can also try butter from sheep and yaks. Bu…