Anytime, anywhere tune in to
hear Dr. Peeke host the wildly popular HER Podcast. Learn the naked truth about HER mind,
HER body and HER life.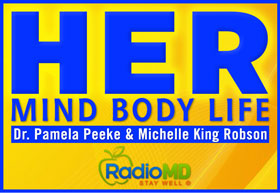 We'd really appreciate it if you could RATE the show while you're there and leave a REVIEW if you can. We always love to hear from you!
Hair loss doesn't negate beauty.Feminine beauty is often associated with long, luxurious locks. How does hair loss affect one's beauty? Alopecia is an autoimmune disease in which the immune system attacks the hair follicles. Hairlessness can occur in patches or all over the body. It can come on at any point in life. Alopecia can lead to anxiety, do…
Daddy's absence can contribute to his daughter's risky sexual behavior.There's a link between fathers' absence from the home and girls' sexual behavior. These girls tend to have sex at a younger age, have more sexual partners and are more likely to become pregnant as teens. There may be other factors that contribute to the risky behavior beyond abs…
Find out how healing works and how to support it.Not all healing takes place in the doctor's office. In fact, 80% of healing takes place elsewhere. Healing is the constant process of becoming whole, repairing and reintegrating. Our body is trying to fix problems as rapidly as possible. You need to create a sanctuary in your home where you can recov…
Are you a good person? Can you be better?Character is our moral fiber. It leads us to think, act and feel in specific ways. Character can be divided into three traits: virtue, vices and a mix of the two. Virtue includes things like honesty, compassion, courage and loyalty. Vices include dishonesty, cruelty and cowardice. It benefits us to strive to…
Beauty is more than skin deep.Ladies, you're far too familiar with the unrealistic beauty standards that are shoved in your face at every turn. It's time to redefine beauty. Five things are more beautiful than conventional looks: Vulnerability. You have your guard down. You have nothing to hide behind. All that you are shines through.Authenticity….