Anytime, anywhere tune in to
hear Dr. Peeke host the wildly popular HER Podcast. Learn the naked truth about HER mind,
HER body and HER life.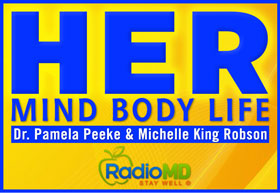 We'd really appreciate it if you could RATE the show while you're there and leave a REVIEW if you can. We always love to hear from you!
There is a new option for creating a family: embryo adoption.Embryo adoption is a way to birth a child when in vitro fertilization with your own embryos is unsuccessful. Donation of embryos is free with the National Registry for Adoption. If you've stored embryos and no longer need them, you can donate those embryos to waiting families. You can cho…
You can work on getting stronger, no matter your fitness level.Supreme Court Justice Ruth Bader Ginsberg is a real booty kicker. She's spry and active, especially for a busy Federal Judge of a certain age. Want to get fit like the notorious RBG? Exercise is the great equalizer. No one can do it for you. You have to show up. Assess, adjust and adapt…
Learn what your vagina needs for best health.The vagina is ever changing. It changes over a lifetime and over the course of a single menstrual cycle. Bacteria: Home Team & Visiting Team Understanding the ecology of your vagina is important. You can have the best vaginal hygiene yet still get an infection.  Every woman has vaginal bacteria: the home…
Wouldn't it be nice to get personal fitness training without having to leave your house?Starting a fitness regimen with vigor is the easy part. Sticking to it is the challenge. Maybe a video conference with your trainer would help. Would you believe there's an app for that? GymGO enables you to communicate directly with a certified trainer online….
Develop some simple habits to kick off the new year with improved nutrition.It's easy to be confused and overwhelmed by all of the options for your new year nutrition. You need help to sort the wheat from the chaff. The Mediterranean diet is a great place to start. Consider what is found locally in the Mediterranean. Whole grains, fish, nuts, seeds…